Whitepine Cottage
Enjoy your vacation or weekend outing at Whitepine Cottage. Nestled among towering red and white pines, this very private, four-bedroom cottage on the Upper Conroy Rapids on the York River is the ideal rustic retreat for those wishing to escape the hectic pace of city life with a traditional cottage experience.
Whether relaxing on the deck to the sounds of the rushing water and wind in the trees, lounging in the cool water in one of many river pools, hiking the surrounding forest trails, or taking to the water with either kayak or canoe, Whitepine Cottage is the perfect spot to wile away the lazy days of summer.
Whitepine Cottage is also the perfect place to re-energize your creative side—whether you are a writer, painter or photographer, you will find no shortage of subject matter for inspiration.
Available from May 7 to October 25.
Book your vacation early to avoid disappointment.
Recreation
Swim in swirling rapids or quiet pools.
Sunbathe on the sandy riverbank/beach.
Meditate on a rock in the river.
Paddle downriver to Conroys Marsh Nature Reserve.
Paddle up the York River to Egan Chute Waterway Provincial Park.
Hike nature trails in the Pinecone Forest.
Play lawn games including horseshoes.
Wildlife viewing.
Great spring kayaking in the rapids during highwater in May and June!
Bike local trails and roadways.
(we are located 4 km from the Hilly 100 scenic bike route.)

Facilities
3 bedrooms with double beds, dressers and clothing racks.
1 bedroom with single bed.
3 piece bath (with shower).
Combined kitchen/dining/sitting room.
Ceiling fan in living area.
Electric stove, fridge, toaster,
coffee maker, blender, toaster oven, crock pot
& electric kettle.
Cutlery, dishes and stainless steel cookware.
Stone patio with stone barbeque and patio set.
Deck with picnic table and propane bbq.
Riverside terrace with bench.
Muskoka chairs.
Waterfront terrace with natural swimming area.
Outdoor firepit with fixed benches.
(firewood supplied)
Drinking water in countertop dispenser.
Pressurized hot and cold river water in bathroom and kitchen.
No TV or telephone for that quiet holiday you have always dreamed about. Cell phone service is limited at the cottage, fragmented service is available nearby. Wi-fi and cell service are available at the office.

2023 Rates
$885 per 3 night minimum stay
$295 for each additional night
$1650 per week (7 nights)
Rates are for groups with up to 7 people.
Extra persons are $30 each per night.
Payment accepted by cash, cheque
or e-transfer.

Weekend bookings and partial weeks are accepted during spring and autumn (3 night minimum stay). Week-long bookings are given preference in July and August. Please check with us for availability.
Available from May 5 to October 5.

Check-in 4 p.m., check-out 11 a.m.
Some exceptions are made to the week-long rule, so give us a call for available bookings.
Bedding and linens supplied.
Additional housekeeping services by request.

No smoking in the cottage.
No pets allowed.
Absolutely No Fishing, Hunting, Motorboats, Snowmobiles or ATVs.
To insure total peace and quiet for all our guests,
and the creatures in the forest,
we do not allow loud amplified music.
SENIORS, SINGLES, COUPLES, FAMILIES AND GROUPS WELCOME
Call ahead for reservations at 613-332-3651

Canoes and Kayaks
We have 4 canoes and 2 kayaks available for our cottage guests to enjoy.

Nearby Services & Amenities
Public Beach at Foster's Lake: 4 km
McArthurs Mills: 20 km
Bancroft: 45 km
Barry's Bay: 38 km
Maynooth: 30 km
Combermere: 25 km
Algonquin Provincial Park: 80 km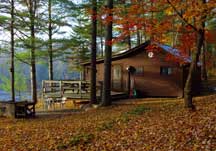 Whitepine Cottage on the York River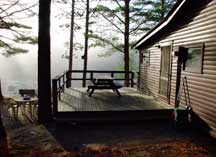 Enjoy the morning mist from the deck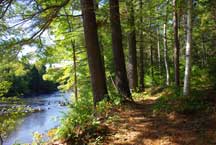 Enjoy our hiking trails!

Waterfront terrace and swimming area in the morning sun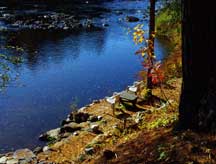 Waterfront terrace and swimming area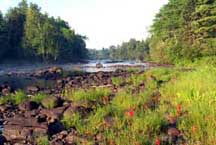 Morning sun and cardinal flowers at Whitepine Cottage (looking upriver)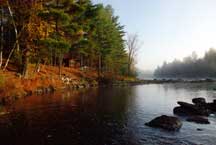 Early morning sunrise at Whitepine Cottage (looking downriver)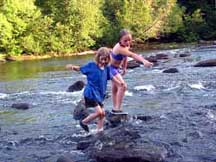 Boulder-hopping in the rapids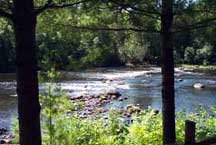 View of rapids from the deck

Deck, stone barbecue and patio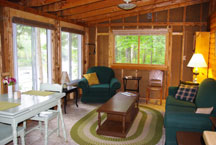 Livingroom with a gorgeous view overlooking the rapids and swimming area

Spectacular view of the rapids from the dining area and living room.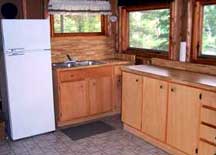 Cottage kitchen-overlooking river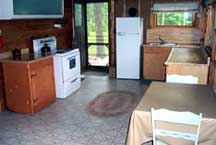 Cottage kitchen with electric stove, fridge, coffee maker, kettle, blender, toaster oven and toaster.