Pinecone Chalet
Enjoy your vacation or weekend outing at the Pinecone Chalet. Nestled among towering red and white pines, this very private and spacious, one-room chalet with upstairs sleeping area on Pinecone Bay and the York River is the ideal retreat for those wishing to escape the hectic pace of city life. Whether relaxing on the screened porch to the sound of spring peepers and wind in the trees, lounging around the fire-pit, hiking or cross-country skiing the surrounding forest trails, or taking to the water with either kayak or canoe, our Pinecone Chalet is the perfect jumping off point for exploration of the York River and Conroys Marsh wetlands.
Available Year Round
Book your vacation early to avoid disappointment.
Recreation
Paddle downriver
to Conroys Marsh Nature Reserve.
Paddle up the York River
Swim the York River.
Hike nature trails in The Pinecone Forest.
Meditate amongst towering old-growth pine.
Relax on the screened porch
with a good book.
Mountainbike local trails.
Wildlife viewing.
Cross-country skiing on nordic trails.
Snowshoeing on forest trails.

Facilities
2 double beds on second floor accessible by staircase.
1 sofa.
Kitchenette with sink and table set.
Propane range and lights.
Pacific Energy woodburning fireplace
Cutlery, dishes and stainless steel cookware.
Screened porch with easy chairs
and table set.
Outdoor firepit with fixed benches.
(firewood supplied)
Pure, deep-well drinking water in water dispenser over sink.
Outdoor washroom with a million dollar view.
2 canoes and one kayak.

Very quiet—No TV, phone, electricity or indoor plumbing.

2023 Rental Rates
Minimum stay: 2 nights
$400 per weekend (any 2 nights)
$175 for each additional night
$1200 per week (7 nights)
Rates are for groups with up to 4 people.
Additional guests are $30 each per night.
Payment accepted by cash, cheque
or e-transfer.
Bedding and linens supplied for 2 double beds.
Additional housekeeping services by request.

No smoking in the chalet.
No pets allowed.
Absolutely No Fishing, Hunting, Motorboats, Snowmobiles or ATVs.
To insure total peace and quiet for all our guests,
and the creatures in the forest,
we do not allow loud amplified music.
SENIORS, SINGLES, COUPLES, FAMILIES AND GROUPS WELCOME
Call ahead for reservations at 613-332-3651

Nearby Services & Amenities
Public Beach at Foster's Lake: 4 km
McArthurs Mills: 20 km
Bancroft: 45 km
Barry's Bay: 38 km
Maynooth: 30 km
Combermere: 25 km
Algonquin Provincial Park: 80 km

Pinecone Chalet (from the back)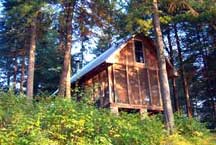 Pinecone Chalet in the morning sun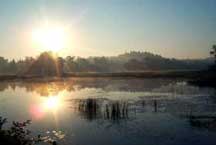 Morning view from the verandah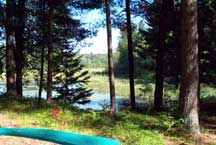 View of Pinecone Bay from the firepit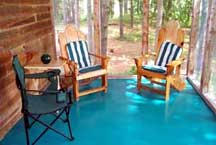 Relax on the screened verandah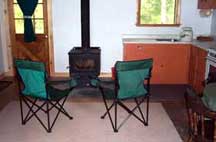 Warm up by the fireplace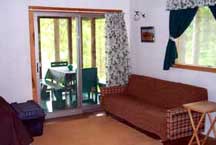 Dine on the screened verandah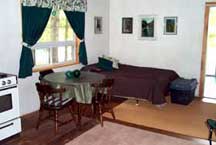 Dining room set and double bed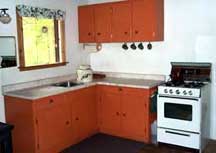 Kitchenette with propane stove