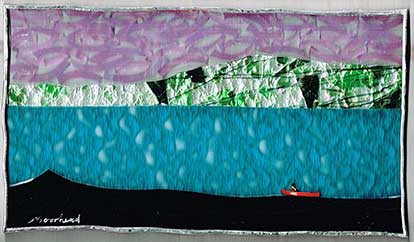 Red Canoe, glass art by Janice Moorhead,
Chelsea Wakefield Studio Tour.
Every year the artists and artisans of Ontario and western Quebec open their doors to the public in organized studio tours. Individual artists exhibit their work in their own homes and studios, many of them nestled down picturesque country roads, or tucked beside a placid lake or babbling brook. Every art form imaginable—and some unimaginable—adorn studio walls, outdoor spaces, and even gardens. You will find no shortage of tours to enjoy throughout the year. For specific events or gallery listings, simply click one of these links.
If you plan to visit an artist or artisan in their studio outside of the scheduled Studio Tour times, call ahead to avoid disappointment. Have Fun!
Note: Studio Tour listings are updated as information arrives. Please check in again for more 2015 listings coming soon.
OXFORD STUDIO TOUR
May 2 & 3, 2015
10 a.m. to 5 p.m. The 8th annual spring studio tour where guests can view demonstrations and experience a world of creativity. Enjoy original art, pottery, jewellery, mixed media, weaving, fabric arts and photography. Admission is free. Brochures available at the Station Arts Centre in Tillsonburg, Ingersoll Creative Art Centre and Tourism Oxford in Woodstock. 40 artists at 20 stops. For more information call 519-842-6151 or visit oxfordstudiotour.wordpress.com.
ELLIOT LAKE ARTS ON THE TRAIL
September 26 & 27, 2015
10 a.m. to 5 p.m. Saturday & 10 a.m. to 4 p.m. Sunday.
Set amongst the vibrant fall colours of the Algoma District, this event with its festival atmosphere, showcases the high quality art and crafts of over 20 artists in a variety of media. 4-5 venues. Enjoy live musicians, special attractions, and demonstrations. For details visit our website at www.artsonthetrail.com or call 705-848-2287 ext 2400.
CHELSEA WAKEFIELD STUDIO TOUR/TOUR DE ATELIERS
September 26 & 27, October 3 & 4, 2015
10 a.m. to 5 p.m. Come celebrate the 27th year of "Artists in Their Environment" studio tour. Drive through the Gatineau Hills in all their autumn glory while visiting the studios of artists and craftspeople. Experience drawing, painting, sculpture, woodwork, printmaking, photography, ceramics, and much more. See www.tourcw.com for more details.